Reviews
Descriptions:
මේ film එක කාලයක් තිස්සේ වසංගතයක් වෙලා තිබුන Covid-19 පාදක කරගෙන හැදුන Film එකක්. මැරෙන මිනිස්සු ගැන තමයි තියෙන්නේ. හැබැයි පොඩ්ඩක් ඉන්න. මේකෙ තියෙන්නේ වෛරස් එක නිසා මැරෙන මිනිස්සු ගැන කියවෙන සිද්දියක් නම් නෙමෙයි. මූණ වහගත්ත පිරිසක් මිනී මරණවා. හැබැයි නිකන් මිනිස්සුන්ව නෙමෙයි, ඒකටත් හේතුවක් තියෙනවා. අපි පොඩ්ඩක් කතාවට එබිලා බලමු..
කතාව පටන් ගන්නෙත් අර මම කිව්වා වගේ අගක් මුලක් නොතේරෙන මිනීමැරුමකින්. මේ කතාවේ ප්‍රධාන චරිත 2ක් ඉන්නවා පාකර් සහ මීරී කියලා..දෙන්නා යාළුවෝ. මෙයාලට සිද්ද වෙනවා නිරෝධායනයකට යන්න. ඉතින් පාකර් ලෑස්ති වෙන්නේ නගරෙන් ටිකක් ඈත් වුන, විලක් ලග තියෙන පාකර් ගේ පව්ලේ අයට අයිති ලස්සන ගෙදරකට නිරෝධායනයට යන්න. නිරෝධායනයට කිව්වට පාකර් නම් නිව්වඩුවකට විනෝද වෙන්න යනවා වගේ මානසිකත්වයක ඉන්නේ..කොහොමහරි මේ ගෙදරට ගියාට පස්සේ තමයි වැඩේ පටන් ගන්නේ..අර මම කිව්වා වගේ මිනීමරුවෙක් හොරෙන්ම මෙයාලගේ ගෙදරට ඇතුල් වෙනවා..ළග පාත වෙන අසල්වැසියෙක් ඇත්තෙත් නෑ..ඉන්න එකම අසල්වැසියා ඉන්නෙත් සැතපුම් 2ක් විතර දුරින්. ඉතින් මෙතනින් එහාට මම මුකුත් කියන්න යන්නේ නෑ..මේ මිනීමරුවන්ගේ බලාපොරොත්තුව මොකක්ද..ඇයි මෙයාලව target කරන්නේ…covid එක්ක මේකට තියෙන සම්බන්දේ මොකක්ද…ඔයාලම බලාගන්නකෝ..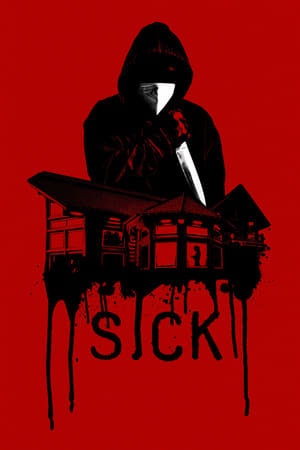 Sick
While quarantining at her family's lake house during the pandemic, Parker and her best friend are threatened by an unexpected visitor.
Gideon Adlon

Bethlehem Million
Dylan Sprayberry

Marc Menchaca

Jane Adams

Joel Courtney

Chris Reid
Duane Stephens

Andrew Sikking

Kevin Williamson

Kevin Williamson
John Hyams

Jason Blum
Nima Fakhrara
Whitney Coleman

Eliza Coleman

Chris Reid

Chris Reid
Landon Hill
Jeremy Lerman

Navid Hejazi
Dan Lawler
Dan Lawler

Nikkilette Wright
Stephanie Sanford Anderson

Kurt Nelson

Conner James Wilson
Lucas Koford